What We Do
We provide everything you need to host a 7-day Masterclass in paradise and create a ready-to-sell digital product in the process.
From finding the perfect venue entirely branded for your event, to taking care of all event logistics, recruiting an amazing film-crew with Hollywood-grade equipment, so you only have to focus on what you do best: present.
During your Masterclass we create your promo video, record testimonials, transcribe your course and create your handouts.
Within two weeks you'll receive a brilliantly shot, perfectly edited, digital product. We'll even help you to sell your course through our network.
All you have to do is sell at least 6 tickets at $2,500 to your event*, turn up and present. We take care of the rest.
* Any sales above $2,500: you keep 100% of the difference.
EXAMPLE 1
You sell 6 tickets at $2,500
Production cost of your Digital Product: your plane-ticket to Bali
EXAMPLE 2
You sell 8 tickets at $3,000 ($3,000 - $2,500 = $500 per ticket for you)
You GET PAID $4,000 minus your ticket to Bali ! (8 x $500) to produce your Digital Product
How it works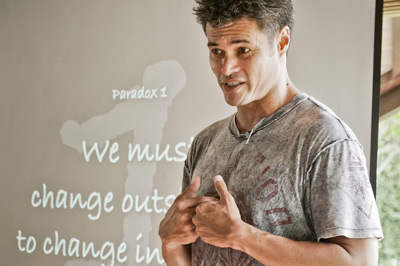 You Present
Just focus on delivering your masterclass. We take care of creating your online course and all event logistics.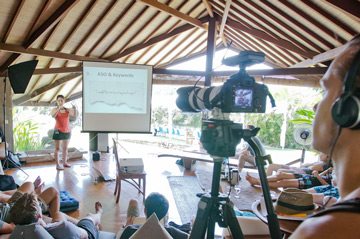 We Film
While delivering your masterclass, we record your digital product. You own the rights to your product. We even help you sell it through our network.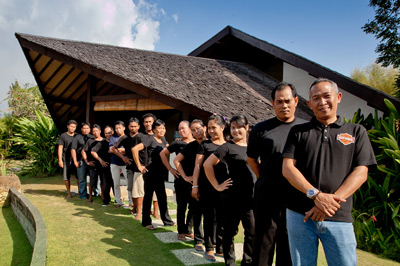 In Paradise
Live and teach in luxury. Wow your participants. We will take care of all your needs.
What You Get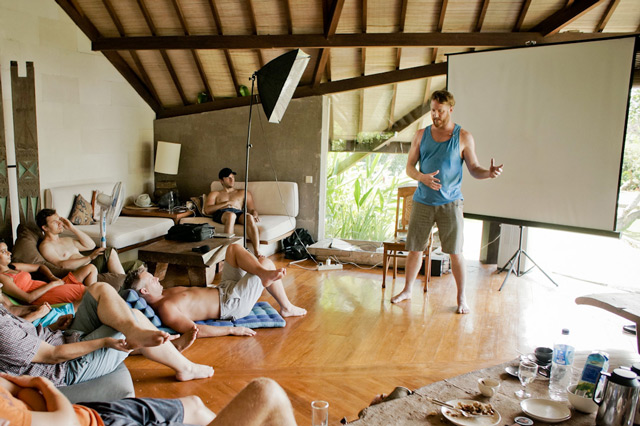 For you:
In-house experienced camera crew, with Hollywood-grade equipment
Your online course, testimonials, promo video fully edited and delivered to you 14-days after event completion
High quality photos to market your course
Brand visibility accross all channels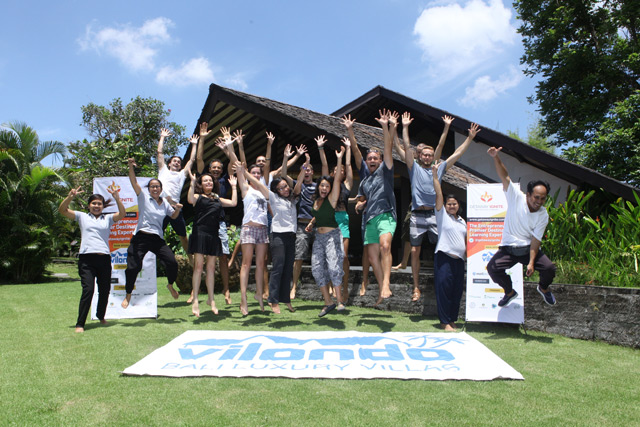 For you and your attendees:
Escort through customs, so no need to queue for you or your attendees
Visa on arrival*
Private transfer to the villa
Luxury accommodation
Welcome drinks and welcome pack on arrival (local internet enabled sim card)
All meals included: our renowned chef, Nyoman, prepares Indonesian and Western cuisine catering for all diets and allergies
Mobile app to order free unlimited water, coffee and juices on demand
Daily massage
Private half day tour of Bali**
* home country needs to be eligible for visa on arrival
** several options available
What others say:
Jacqueline Biggs
EXPERT
International best selling author
I had been thinking about creating this course for ages, but finding the time to write, create and produce it was just impossible. The Getaway Ignite team had the perfect solution: an enforced deadline, I didn't have to deal with any of the logistics plus I got a holiday in the sun. I can't fault the Getaway Ignite team. What a brilliant experience.
Steffen Thilsted
EXPERT
CFO, Co-Founder at Birdback
At Getaway Ignite I not only get to teach great entrepreneurs how to succeed with their fundraising goals and scale their business, I also get video footage of the whole event that I can use to market the next one. The best bit? I get to go surfing every day, actually twice a day, I present the course in between surfing sessions.
Tom Frearson
PARTICIPANT
Founder at WPTechcentre
Before Getaway Ignite I was really struggling with the positioning for my business, but the one-on-one sessions with Jacqueline were incredibly useful in really pinning down my unique value proposition. In the space of just a week I also managed to put together a great marketing strategy and I'm looking forward to putting it into practice now.
Elly Earls
PARTICIPANT
Hospitality and Travel writer
After Getaway Ignite my head is literally overflowing with information – I didn't know it was possible to do so much in only a few days. What was great though, was that it was all presented in a way that was really easy to understand and accessible for people that are new to entrepreneurship. Jacqueline was an excellent speaker, and the course was made even better by the incredible setting – overlooking rice paddies in Bali!
One-Click Feedback
Let us know what you think simply by clicking one of the three buttons.